Thai Classical Suits
Ratanakosin

In central Thailand, during the early Ratanakosin era (approximately 150 years ago), court ladies liked to wear brocaded tube-skirts with front-pleated lengths of cloth. They also wore tube-skirts painted with gold leaf to indicate that they were of high royal rank. On top, the ladies wrapped a thin silk sabai, accordion pleated and worn off one shoulder as an inner garment, and covered this with a more elaborate wrap that was completely embroidered with gold and silver sequins. This court attire was embellished with jewelry made with gold and rough cut diamonds or gold with red and green enamel. Since royalty did not favour the wearing of earrings during the early Ratanakosin period, earrings were not popularly worn.
---
Tai-Lue

The Tai-Lue tribespeople from Chiang Khong in the north of Thailand continue to dress in the same manner that they have over the ages. The woman wrap white or light coloured cloth in a turban around their heads. Their blouses, which open to one side, are indigo-dyed and edged with cloth of various hues. They wear ankle-length tube-skirts, woven in various colourful weaving techniques in the middle and the hem-piece is decorated with a strip of indigo-dyed cloth. Their ornaments are made of silver and coloured enamel, etched in patterns of butterflies, birds and flowers. Silver is also crafted into long chains which are hung from the waist to graze the knee. The small silver bells at the ends make a tinkling sound when the women move.
---
Aristocratic Tai-Lao

Aristocratic Tai-Lao ladies from the southern part of north-east Thailand wore tie-dyed mudmee (Ikat) silk tube-skirts or pasin that were pressed to show lovely folds when worn. The dark red shades of the pasin were the result of Khmer influences. The ladies wrapped a pleated sabai across one shoulder. Popular jewelry pieces were golden body chains worn across one shoulder, gold bracelets and bangles.
---
Nohra

Costumed Nohra dancers from southern Thailand display the typical dance movements. The main dancer wore a head dress called the Terd from which two fresh flower garlands hung from either side. He wore gathered jong karbane pants with fabric pieces hung in front, the brocaded central piece being the most ornate. The supporting dancer were similarly dressed but did not wear the head dress. All had long metallic nails decorated with coloured beads and a tail piece. The present day costumes of Nohra dancers have been modified from these costumes which were popular during the reign of Rama V, in the latter half of the Nineteenth Century.
---
Tai-Lao

Tai-Lao women from Luang Prabang still wear this full dress ceremonial attire in the present day as they did in the past. Their hair is gathered into a high bun and wound with numerous gold chains of various sizes and patterns. The ladies wear fitted, long-sleeved blouses made from fabric woven through with golden threads. A richly embroidered sabai is wrapped around one shoulder and the edges are allowed to hang loosely in the front and back. The ankle-length brocaded tube-skirt is richly patterned and woven with gold threads.
---
Tai-Kern

The high-born women of the Tai-Kern tribe from northern Thailand, for important ceremonies, wore a tube-skirt called a Sin Mai Kam. This was interwoven with threads made from genuine gold and silver thread and embroidered with sequins. Aristocratic ladies traditionally wore a side-fastening blouse called a Seua Pad and they would wrap long strips of light coloured silk around their heads in a thick turban. Their jewelry was made from diamonds, gold and silver.
---
Southern

The men and women from southern Thailand wore batik patterned sarongs. The women favoured lacy blouses that were worn loosely untucked outside their sarongs and open at the front in the Yaya style. Their heads and shoulders were usually covered with a shawl. The men preferred to go shirtless.
---
Tai-Dang

Unlike women from other ethnic Tai groups, the women from the Tai Dang group, when going to formal ceremonies, wrapped two flowing pieces of Pa Bieng across each shoulder, on top of their black, long-sleeved blouses. These Pa Bieng were exquisitely colourful woven pieces using the special teen jok technique. They were regarded as show pieces of the owner's talents and skills. The floor length tube-skirt was plain black or woven with small patterns, accented with contrasting bands of bright and colourful decorative hempieces. Behind these ladies hangs a heavy cotton mosquito net decorated with a colourful teen jok border.
---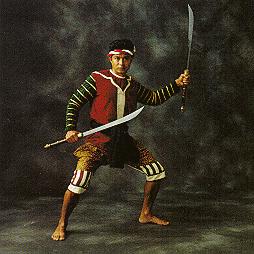 Ayudhya

This sixteenth Century warrior from the middle Ayudhya period, as portrayed in a mural painting at the Wat Yom Temple. He brandishes a sword in each hand. He also wear a long-sleeved shirt accented with a striped design and a patterned jong krabane over striped pants. Two sashes are tied around his waist for a trim silhouett. Strands of red and white string-colours considered suspicious in Thailand - are twisted into a headband.
---
Tai-Lao Tribesmen

This shows the attire of the Tai-Lao tribesmen from the north-east of Thailand during the last century. The women arranged their hair in a high bun and wore long-sleeved tunics, dyed dard blue with indigo dyes. They wore a floor length tube-skirt of mudmee (Ikat) silk and wrapped an intricately woven, colourfully patterned length of cloth over their shoulders. The men sported tight-fitting, dark blue indigo-dyed shirts with three-quarter length sleeves over jong kabane pants pulled high up to show their tattoos on both legs and tied at the waist with several pieces of cloth.
---
Tai-Yai

The Tai-Yai tribesmen, based on mural paintings from a northen Thai temple, dressed over a century ago, in two layers of long-sleeved brocaded shirts of ornate brocade textile. The bright red velvet cloak worn over these shirts topped an ankle-length sarong woven in the special tapestry weave technique. The men in those days pierced their ears and wore gold earrings in the form of a large sprig of flowers. They often tucked a rolled up tobacco leaf behind their ears.
---
Tai-Yai women

Over a century ago, the Tai Yai women liked to wear floor-length wrapped skirts woven with the tapestry weave technique, wrapped to one side and allowed to drag on the floor. Over their bodice of wound cloth, they wore a flowing, long-sleeved outer garment that was left open at the front. The bun was their favoured hairstyle and rubies, sapphires and pearls were fashioned into jewelry to complete the traditional costume.
---
จากปฏิทินของการบินไทย ประจำปี 1997
GO BACK HOME